The DarWest project ceased production in the summer of 2000. This website remains for archival purposes.
Please visit scottschirmer.com or dandixon.us for more information.
April 17, 2000: More Designs Unveiled...
Scene 87 ("The Ti'Leek Debriefing") is currently nearing completion. It's the longest non-action scene in the movie (about 7 minutes long) and features most of the movie's characters. Work has also begun on numerous other scenes, including the climactic battle over the sea and the "Gil Ana Rescue" sequence. Both of these sequences are very action-oriented, featuring tons of 3D animation, and will be in production for several months.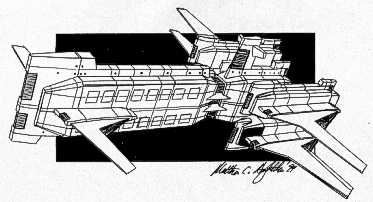 Here's a sneak peek at the Gandin Warship, featured prominently in the "Gil Ana Rescue". The ship was designed by production designer Matthew Hightshoe and constructed by Dan Dixon.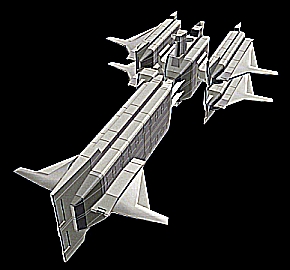 Also in production is a new "DarWest: Behind-The-Scenes" documentary, co-produced by Jeff Freeman. The new video features clips from finished scenes, interviews with the production team, and an ultra-cool 45-second finale. The new video will premiere April 28th at the Hometown Film Festival in Bloomington, Indiana. It will also be shown at Indiana University's annual telecommunications showcase the first week of May.
Check out The World of DarWest for recently released designs of two more characters: Gant Haverstick and Ian Brenneman. Both characters are illustrated by Michael East.
March 3, 2000: Scenes, Glorious Scenes
Scene work continues -- here are some of the latest stills: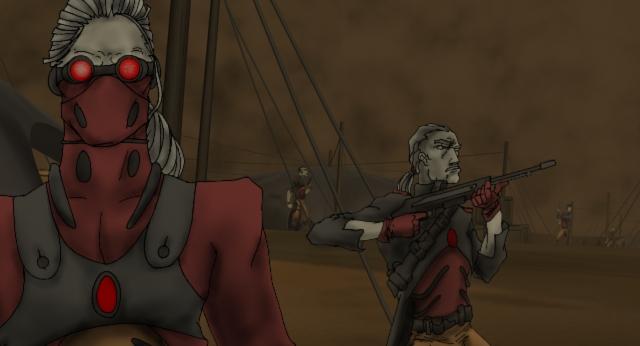 (Above): Goggles and another Gandin rebel prepare for battle as a sandstorm worsens...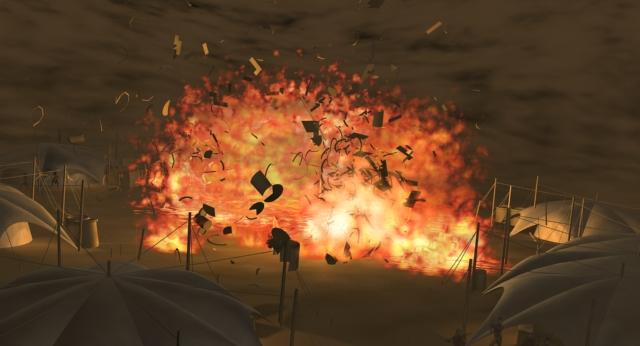 A tent explodes during the battle on Gandia...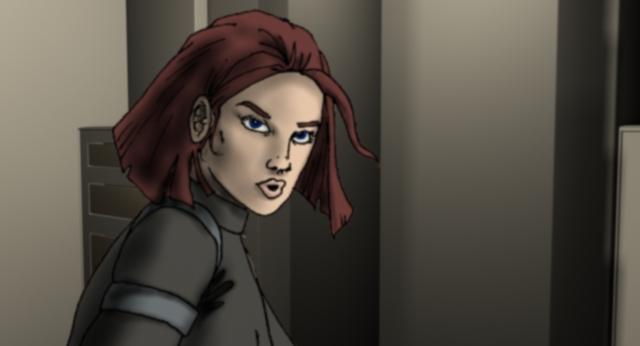 (Above and Below): Nik and Ellen confront one another in their bedroom...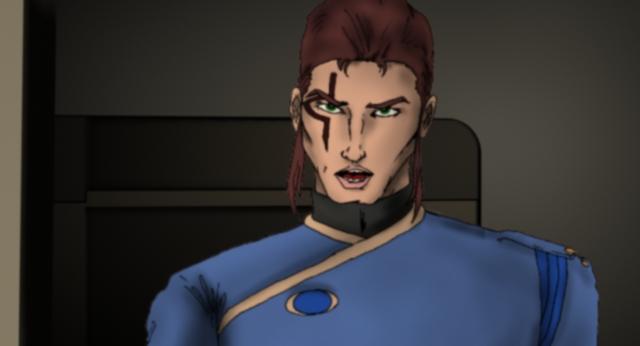 More scenes go into production next week, and we soon hope to begin completing scenes every 7-14 days, so stay tuned...
January 27, 2000: The First-Ever Glimpses of DarWest!
There's been terrific response from a handful of enthusiastic 3D modelers at Purdue, and we are now reviewing applications. Look for an announcement of new crew members in the very near future.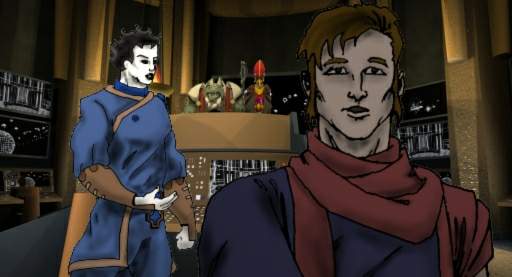 As promised, here are two stills from the first finished scene. Two more scenes are now in production, and by May 1st a rough version of the entire movie will be previewed. (This rough version will contain many storyboards and animatics in addition to some completed scenes. Bloomington, Indiana residents can also look forward to a possible "work-in-progress" presentation during the Hometown Film Festival later this spring.)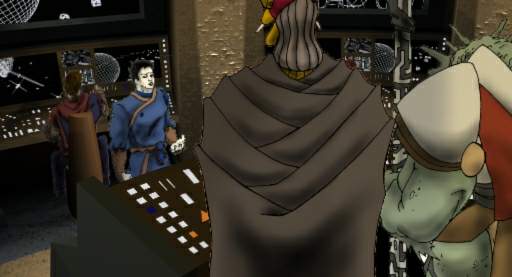 It's taken a long time for us to get this project into scene production. The designing phase took over one whole year, during which numerous technical experiments and demonstrations were performed. We are looking forward to completing scenes every week or two through the summer and into the fall. While it's difficult to announce an exact completion date for the movie, we are currently aiming for late 2000.
January 24, 2000
After many revisions to procedure and process, scene production has resumed. Look for stills from the first final scene later this week.
There's a mass recruitment for 3D modelers at Purdue University Tuesday, January 25th. Nathan Martz is heading up the recruitment at Purdue -- thanks, Nathan!
Though he's been on the project since November, we officially welcome aboard Chris Anderson, whose storyboarding for action sequences is incredible. Chris is also involved in vehicle and character design, and is one of the movie's chief illustrationists along with Michael East and art director Scott Harshbarger. Scott H., Chris and Michael have been meeting weekly with Scott S. and Dan to finalize and stylize the character designs of last semester's art crew.
I'd also like to mention the continued involvement of character designer Katherine Sheehan, who is currently helping add color to all the characters as well as to Matt Hightshoe's sets. Thanks go also to all the designers who have expressed the desire to return to DarWest should the need arise -- we have your numbers!
We've begun assembling storyboarded sequences and computer-generated animatics together to create a rough version of the movie. This "work in progress" will serve as a blue print to the final movie, and will aid not only the character illustrators, but the 3D modelers, composer, and voice actors (many of whom we're inviting back for rerecording this spring).
Finally, we send special thanks to Joan Hawkins and Thom Gillespie, our Indiana University academic sponsors, for their continued support of DarWest's crew.
As always, stay tuned...